(Tour account in english only)
REBEL VIDEO visited the USA, Canada, and Europe in 2018 with stops in San Francisco, Chicago, Montreal, New York, London, and Genoa before returning to Zurich. It was a book launch event with film screenings supported by Pro Helvetia, the Arts Council of Switzerland. The aim of the tour was to stimulate discussion about the video movements of the 1970s and 80s and their relevance for film/video activism today. People followed my journey through a newsletter and on Facebook. Wishing you fruitful encounters with the exciting history of the video movements!
All the best, Heinz Nigg
May 27, 2018
Book Rebel Video: english / german
Tour Diary – Letters to my friends

San Francisco, March 13
Dear friends of Rebel Video,
On Monday, March 12, I had an inspiring start of the Rebel Video Tour 2018 at the California College of the Arts (CCA) in San Francisco. Jeanne C. Finley and I introduced the students to the video movement of the 70s and 80s in North America and Europe. Jeanne talked about the «Ant Farm» (Cadillac Ranch, Media Burn) as an important video collective in the Bay area in the 70s, and I tried to give an overview of community/alternative video in London (1970-1990) and the role of video activism in the youth movement in Switzerland (1980-1984). The response of the students was illuminating: They appreciated that all these documents could be archived and can now be used in the debate about media activism today. Thanks to all who participated, as well as to my special guests from Sacramento—Marie and Ken—and to my travel mate Peter from Switzerland!
All the best, Heinz
March 20
Dear friends,
Today is my last day in San Francisco. Tomorrow I will be heading for Chicago for my next presentation of Rebel Video at the School of the Art Institute of Chicago. The other day I was invited into the studio of Jeanne C. Finley (my host at CCA) to have a look at her present video project 'Journeys beyond the Cosmodrome'. It is a film with photographs, videos and stories that were created with teenagers aging out of Kazakhstan's Akkol Bolshoi orphanage into challenging and uncertain futures. An expanded film performance was staged last December in San Francisco and the event was streamed live to the orphanage in Kazakhstan, and they responded during the event via social media.
Jeanne C. Finley's present video piece is a good example of how she has continued with great passion her work in experimental documentary and participatory video, which she began in the 80s (see her early work Involuntary Conversion from 1991. Here two short clips (1 / 2). The final version will be about 30 to 45 mins long. If you like to know more about this project follow the link to Jeanne's website.
Here what Jeanne told me about  her new work:
HN: What motivated you to do embark on the video project 'Journeys beyond the cosmodrome'?
JF: Much of my work has explored the power dynamics between children and adults.  I also adopted a boy from Kazakhstan and am compelled by the challenges that all children from disrupted families face.
HN: What did the kids get out of the project?
JF: I can only say what the kids have told me, that the opportunity to imagine their lives and to continue to be in touch with me over the years brings an opportunity to see the value in their lives.
HN: What kind of audience will see the final version of the film?
JF: My hope is that a wide audience will see the film and it will have the opportunity to be seen beyond the art world.
HN: How does your work on 'Journeys beyond the cosmodrome' relate to the legacy of the video movement of the 70s and 80s?
JF: This is a good question, but I'm not sure I know the answer.  Perhaps the impulse to engage with community through collaborative creation of portraits of individuals within communities is something that video makers have been doing since the 70's and 80's.
All the best, Heinz
Chicago, March 23
Hello everybody,
Yesterday I visited the School of the Art Institute of Chicago (SAIC). In the morning I was a guest in the class of artist and Prof. Titzra Even who this spring semester is teaching 'Documentary and Non-Fiction Film'.
Some of the topics that came up in the discussion:
– The role of women in community video
– What was community action about?
– Who was initiating community action with video in the 70s?
– Where to get funding for community video art practice?
– Why rock music in the video 'Squat Now While Stocks Last'?
– Why is the video archive Rebel Video freely accessible?
– In the oral history portraits the video pioneers talk a lot about their upbringing. Why?
Thank you for the lively discussion!
In the afternoon I took part with my video compilation about the youth movement of the early 80s Zurich in a discussion about the role of violence in society. Mary Patten, the artist and professor who invited me to her class about the effect of antiterrorism policies in the USA on oppositional practices and free speech, first presented clips from a film about Franz Fanon and the film 'Battles of Algiers'. I tried to relate this "heavy stuff" to the politics of youth unrest in Europe in the 80s, and in particular about Zurich and the famous video film 'Züri brännt' (Zurich is burning).
The students were curious about the history of youth unrest in a small country like Switzerland, which to them is mostly associated with great wealth, chocolate, and banks. The students at SAIC are coming from all over the world. One third of them are from Asian countries, from countries like Taiwan or Thailand. So they related 'Zurich is burning' to youth movements in their own countries, and how they deal with violence and suppression. The discussion then turned on the present situation in Chicago: Where do students and artists find cheap accommodation to live and work, and how do their needs interlink with the process of gentrification in inner city neighborhoods just outside of Chicago's Loop?
So Chicago, my old "home town", where I had stayed as an exchange student in 1967/68 for one year, offered me a great homecoming. I am sure I would like to come back again and deepen the conversation. Tomorrow I am off to Montréal to meet the pioneers of the film/video movement 'Challenge for Change' / 'La Société Nouvelle'. More about that in my next post. But before I hit Chicago O'Hare International Airport, I enclose further down in this post some infos for those of you who would like to know more about how my hosts' work as artists in Chicago and elsewhere.
Thank you for your attention! And many thanks to Marisa Holmes and Paul Elitzik who have arranged my visit to SAIC.
Best, Heinz
List of links
The work of Tirtza Even:
'Natural Life' is a feature length experimental documentary challenging inequities in the U.S. juvenile justice system by depicting, through documentation and re-enactment, the stories of five individuals who were sentenced to Life Without Parole (Natural Life) for crimes they committed as youth. 1 hour, 17 minutes. Can be watched for free. (If you are in Europe you've got to login at Amazon.com). And here is a long public discussion about 'Natural Live' and its impact.
A project of Mary Patten:
Mary Patten has done several collaborative projects about and in prisons. Have a look at this website, which is about the Chicago Torture Justice Memorials, that Mary Patten has been involved in. And here is a 8 min. video about the project. 'Chicago Torture Justice Memorials' focuses on a dark and most scandalous side of race, politics and violence in Chicago. But it also proves what courageous people can do about it!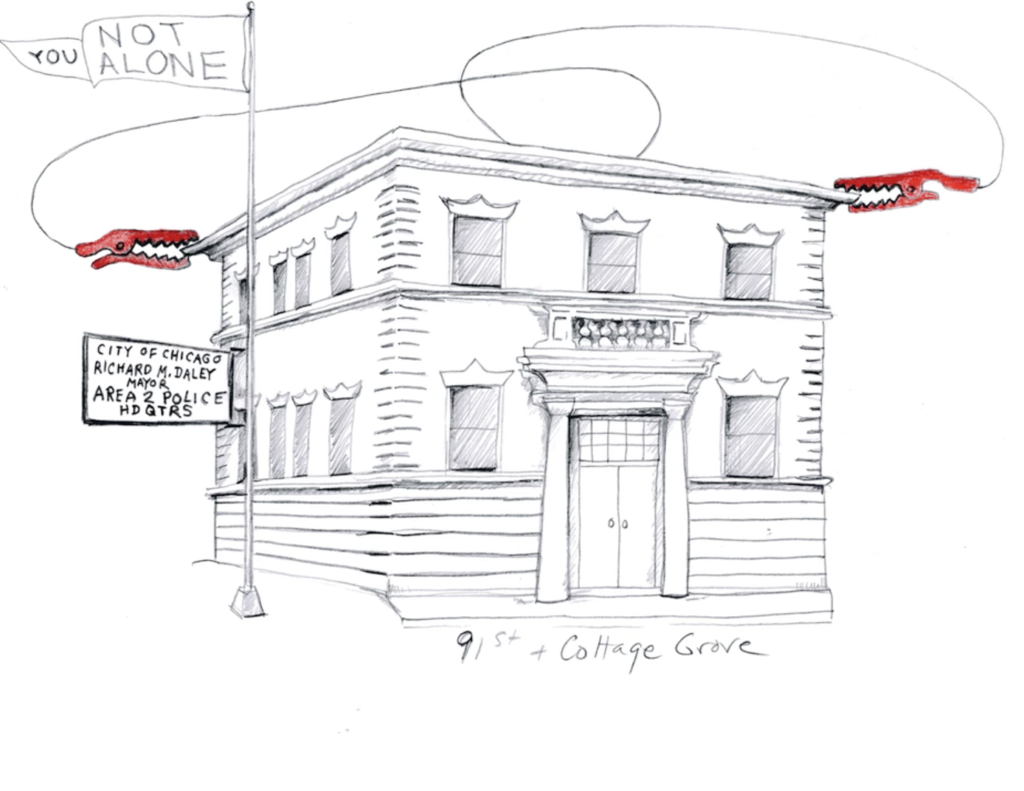 Montreal, March 29
Dear Friends,
I send you a video interview with Dorothy Todd-Hénaut, a founding member of Challenge for Change / Société Nouvelle in Canada. Last Sunday I met Dorothy and her friends from long ago–Anthony Kent, Martin Duckworth and their wives–at the Cinémathèque québécoise where its program director Guillaume Lafleuer introduced Rebel Video and me to the audience. A lively discussion took part after the screening about participatory film/video making then and now. The audience was astonished to see what impact Challenge for Change / Société Nouvelle had on similar projects in Europe, particularly in London and Switzerland.
Dorothy explains in the interview how the ideas about open access to filmmaking for people from all walks of life developed in Canada and are still alive today. This is required viewing for all who want to discover the roots of community video.
Below you find the links to the films/videos Dorothy mentioned in the interview together with links to community video projects in Canada today. Enjoy!
Best, Heinz
Videos from Challenge for Change
Building an Organization, with Saul Alinsky (1909-1972), National Film Board of Canada 1968. Filmed by Bonnie Sherr Klein.
VTR St-Jacques, Bonnie Sherr Klein 1969, 26 min
The 16mm film document of CFC/SN's pioneering experiment with community video production in Montréal.
V.T.R. Rosedale 1974, 31 min
Unlike its predecessor VTR St-Jacques , VTR Rosedale is not a film document of a community VTR initiative but a film comprised of the video material itself. Citizens in the Drumheller Valley of Alberta, with assistance from CFC technicians and the support of University of Calgary's Division of Continuing Education and School of Social Welfare, use video to organize their efforts to attract the attention of municipal and provincial governments to the lack of basic services in Rosedale.
Participatory and activist video projects in contemporary Canada
Inuuvunga – I Am Inuk, I Am Alive, 2004, 57 min
Mila Aung-Thwin , Daniel Cross , Bobby Echalook , Brett Gaylor , Sarah Idlout , Laura Iqaluk , Linus Kasudluak , Willia Ningeok , Caroline Ningiuk , Dora Ohaituk & Rita-Lucy Ohaituk. In this feature-length documentary, 8 Inuit teens with cameras offer a vibrant and contemporary view of life in Canada's North. They also use their newly acquired film skills to confront a broad range of issues, from the widening communication gap between youth and their elders to the loss of their peers to suicide. In Inuktitut with English subtitles.
Rupture, 2005, 300 min, by Epopée
In 2012 Quebec students protested against a proposal by the Quebec government to raise university tuition. Rupture gathers testimony from approximately 30 activists who were deeply involved in the 2012 and 2015 student protests. It's all talking heads: 5 hours long! The film examines the rupture caused both by police repression and by the reactions of political leaders and the media to the strike. Several themes run through it: the meaning of political violence, the inversion of relationships with institutions (family, unions), the problems of representative democracy, the failure of the electoral solution that put an end to the strike, and the observable existence of patriarchal systems and chauvinistic attitudes both within student associations and among police officers and prison guards. Several of the activists who participated in Rupture were injured and criminalized in 2012 and 2015; more than half were women. Épopée produced this film in collaboration with activists who were involved in the 2012 movement. The video can be rented from Vidéographe for 8 Candian dollars. Vidéographe is Montréal's showcase for video since 1971. It was founded in the context of Société Nouvelle /Challenge for change.
P.S. After my interview with Dorothy Todd Hénaut, Dorothy went digging in her archive and found a 55 min documentary on the story of Challenge for Change / La Société Nouvelle! Here it is:
Part 1
Passsword: Challenge for Change
1967: Stop the War, new methods of social activism in the United States, how the NFB from Canada adopted methods of the US war on poverty, ' The Things I Cannot Change', 1968: launch of Challenge for Change, 'Up against the system', Fogo Island, 'Bill Crane Moves Away', a new revolutionary style of film-making in the process, 1969: the Sony video recorder called the Portapak, 'VTR St–Jacques'.
Part 2
Passsword: Challenge for Change
'VTR St–Jacques (cont.), 'Saint–Jérôme', 1971: Founding of Vidéographe, first cable channels in Québéc, world wide impact of Challenge for Change / Socété Nouvelle, 'VTR Rosedale' (Drumheller, Alberta), 'Up Against the System', 'Cree Hunters of Mistassini'.
Part 3
Passsword: Challenge for Change
'Cree Hunters of Mistassini' (cont.), training of young Indians to become filmmakers, 'The Ballad of Crowfoot', 'Who Were the Ones?', to make history happen, 'You Are on Indian Land', 1980: Termination of Challenge for Change / Société Nouvelle, a new project for women filmmakers: Studio D, the legacy of Challenge for Change.
The documentary was produced and written by Christina Pochmursky. Production: National Film Board of Canada (NFB) in association with the Documentary Channel. Copyright 2006: NFB
Let's hope the NFB puts the documentary on its website free to watch!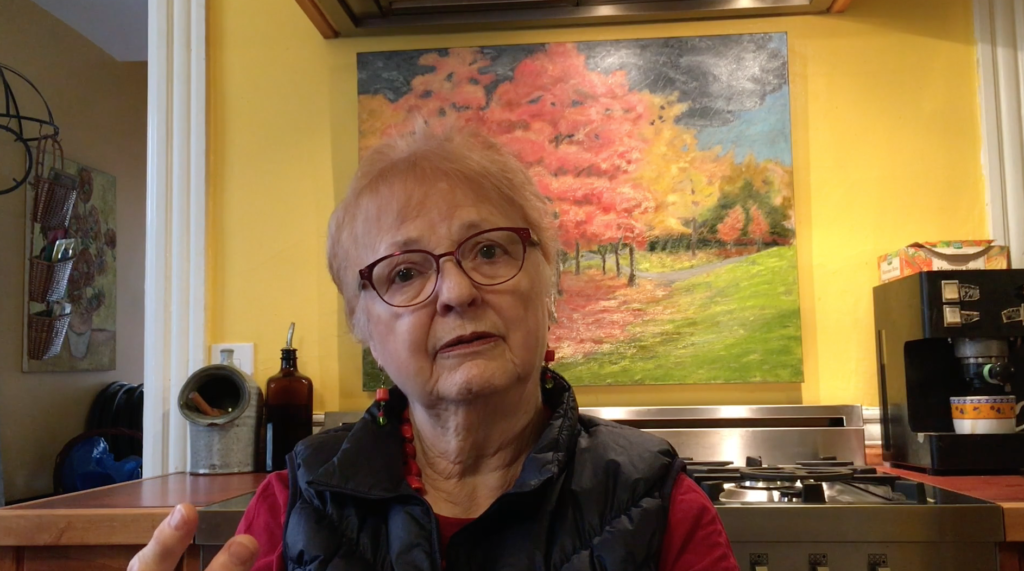 New York, April 4
Dear friends of Rebel Video,
Last night we had an enjoyable discussion at 'Paper Tiger' and 'Deep Dish TV' in New York. Two important representatives of the video movement of the 70s and 80s in New York were with us: DeeDee Halleck, founder of Paper Tiger TV and many other video initiatives, and Skip Blumberg from the famous Videofreex. Together with a small audience of "movement veterans" and younger video activists they loved to watch 'The London Tapes' and were thrilled by the energy and the creative outburst of Zurich's youth movement expressed in the excerpts from 'Zurich is burning' ('Züri brännt') and other video documents I showed.
We all agreed that it is important to keep video documents of social movements "alive" on the Internet, so that new movements all over the globe can use them as a source for inspiration and critique. Good that John D. H. Downing was with us, too! He is an expert on social movement media and is convinced that social movements today can learn a lot about their historical background by using visual archives.
Especially 'The London Tapes' give a good overview of how community video practices had changed over two decades (1970-1990), starting with participatory video along the methods of Challenge for Change to more interventionist and investigative video practices that developed out of autonomous urban video collectives like Despite TV and Spectacle.
I will take this positive input with me to London where this coming Monday, April 9, the discussion will be continued with my colleagues and friends in the MayDay Rooms at 88 Fleet Street. Host: The London Community Video Archive.
For those of you who would like to explore the rich tradition of video activism in New York I have added a link list (below).
Thank you Marisa Holmes and Rebbeca Centeno from Paper Tiger and Deep Dish TV for your hospitality, and thanks to all who came last night or are following Rebel Video tour 2018 on Facebook or through my newsletter.
All the best, Heinz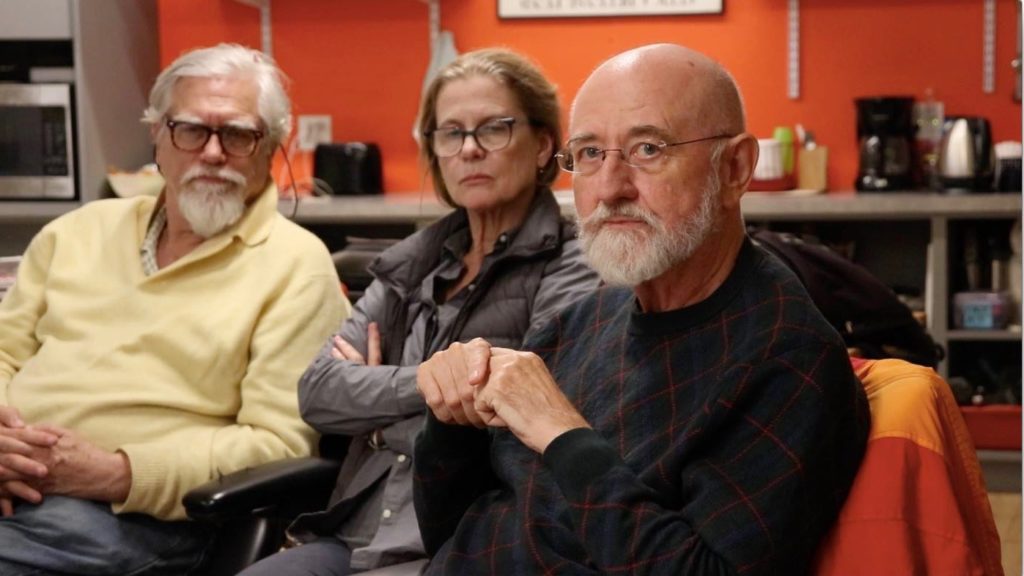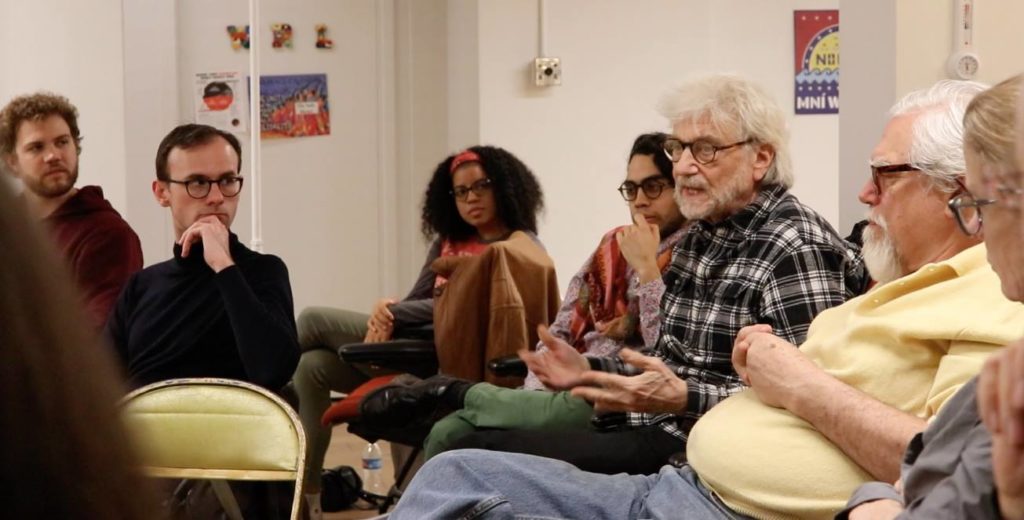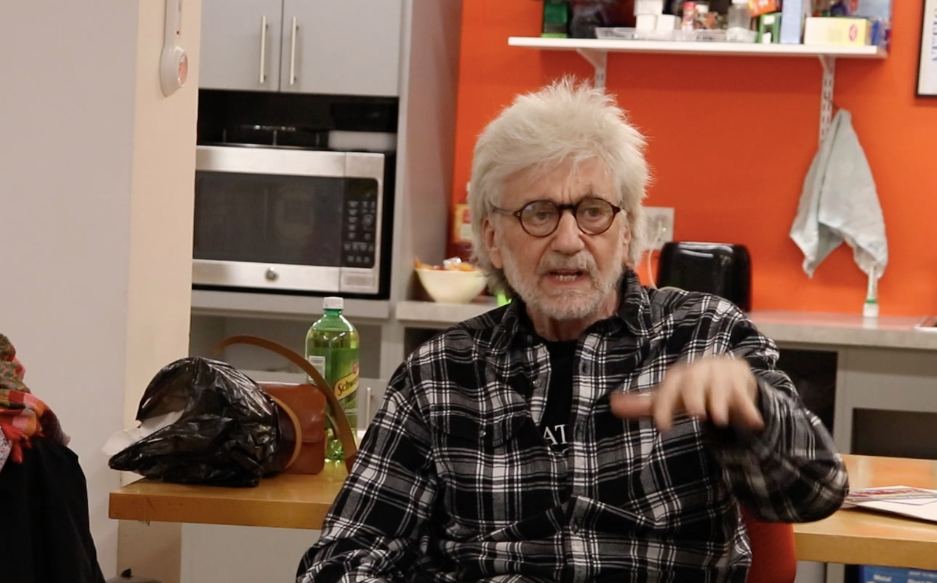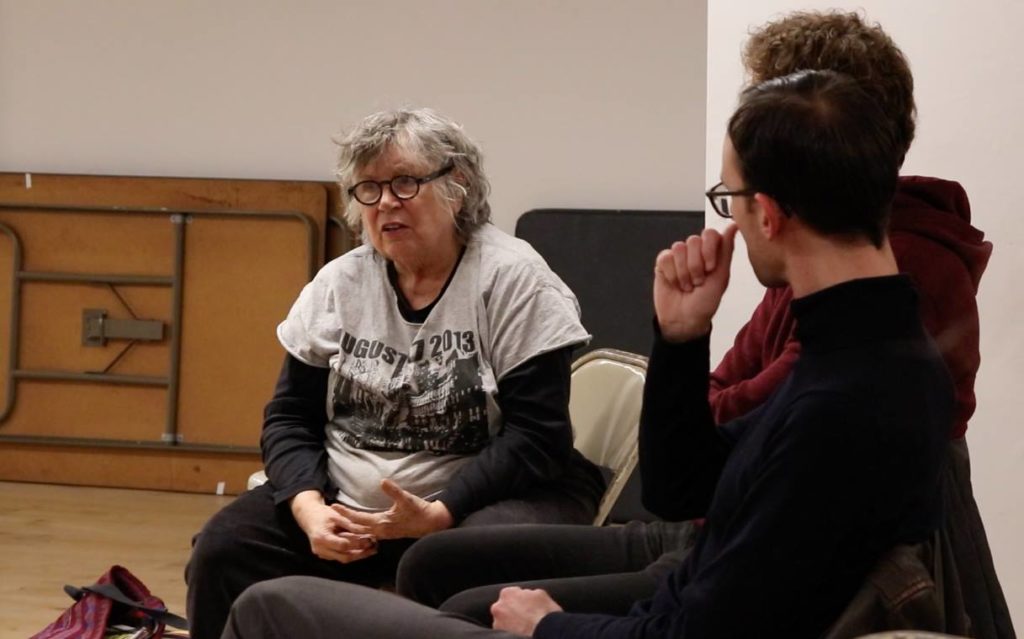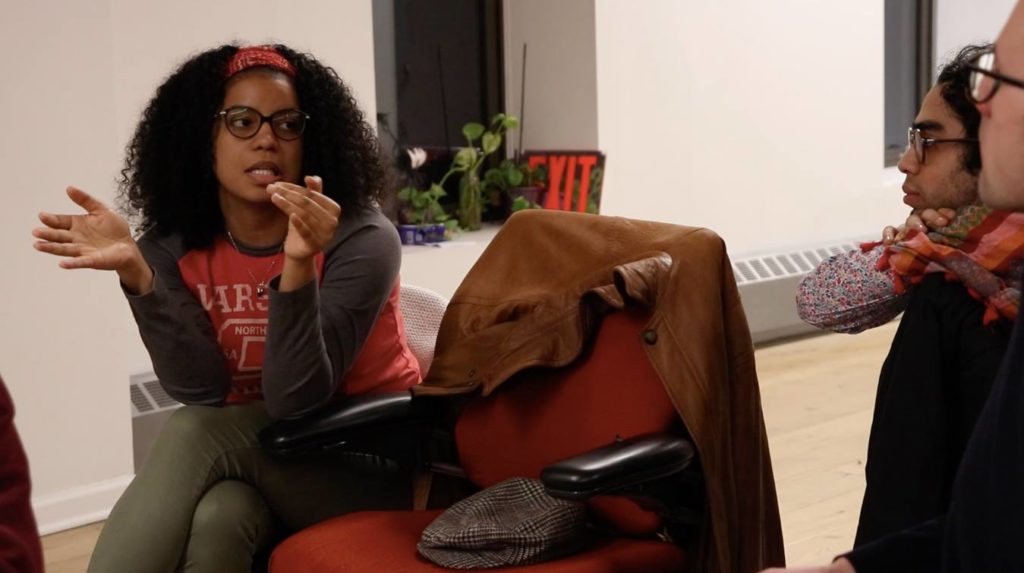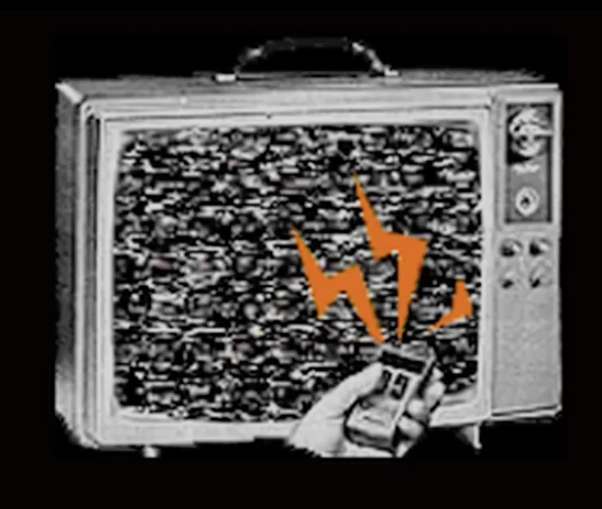 List of links
The Battle for the Real:
Marisa Holmes from Paper Tiger Television and Rebecca Centeno from Deep Dish TV are working on the series 'We interrupt this program'. These are short videos (not much longer than 10 min) covering toxic themes in Trump-America: white nationalist movements, far-right hate groups, anti-migrant rhetoric, Islamophobia, misogyny, normalization of sexual assault and sexual harassment, transphobia, climate change deniers, attacks on healthcare, etc. Have a look at the latest episode–directed by Marisa Holmes–on the media landscape as a battleground of conflicting ideologies:
The History of Paper Tiger Television:
I spent a wonderful afternoon with DeeDee Halleck, who has created a tremendous output of participatory video/media work over the years. She talked about how she started to work with film already in the sixties (Children Make Movies, 1961), and how she eventually became the video/media activist of today. I hope very much that her great treasure of videos and documents will get into good hands and will be available for research as well as for the general public interested in unconventional art practices. Here a short video about the different museum exhibitions of Paper Tiger Television with DeeDee Halleck's comments.
Video Pirate TV:
The Videofreex were a pioneering video collective who used the Sony Portapak for countercultural video projects from 1969 to 1978. They were based in a 17 bedroom house in the Catskill Mountains named the Maple Tree Farm. Skip Blumberg was a member of the Videofreex and believed that the medium television could be turned into a more democratic medium. The Videofreex Archive, containing more than 1,500 original tapes, is housed at the Video Data Bank in Chicago. Here a most funny 6 min sampler of 'Video Pirate TV'.
Social Movement Media:
This encyclopedia came out in 2010 and was edited by John D. H. Downing. The book features around 250 essays on the varied experiences of social movement media over the planet. The guiding principles have been to ensure that experiences from the global South are given voice; that women are properly represented among contributors; that the wide spectrum of communication formats is included. Key themes: Cinema, Television, Video, Cultural Contestations, Feminist Media, Gay and Lesbian Media, Human Rights Media, Independence Movement Media, Indigenous Peoples' Media, Information Policy Activism, Internet, Labor Media, Performance Art Media, Popular Song, Press, Radio, Social Movement Media, Regions.
Next stops: London, Genova and Zurich!
London, April 11
Dear friends of Rebel Video,
Staying now in London feels like coming home. It is 5 years ago that we founded the London Community Video Archive (LCVA) that was officially launched at the British Film Institute (BFI) in June 2017. My project Rebel Video is closely linked to the formation of the LCVA. Andy Porter, a friend of long ago, welcomed me at the MayDay Rooms, an archive for social movements and experimental culture at 88 Fleet Street. I showed the 'The London Tapes' triggering a discussion about the relevance of the "old tapes" of the early 70s for cultural and social practice today.
Here are some excerpts from the discussion. Thank you John White and Andy for video recording the event, and thank you to all who came to the MayDay Rooms, especially also to our guests from the Swiss Embassy. I hope we will be able to develop further Swiss-Anglo events about community arts of the 70s and 80s at other venues in London and elsewhere in the UK.
I enclose a list of links for those of you who would like to find out more about the London Community Video Archive (LCVA) and explore its potential.
After a few days in foggy London I will come back to you at the end of this month from Genova. That will be my last stop of my book tour 2018 before returning to Zurich where I will sum up my travels.
All the best, Heinz
List of Links
The London Community Video Archive (LCVA)
Based at Goldsmiths University and the BFI, the London Community Video Archive (LCVA) preserves, archives and shares community videos made in the 1970s/80s in London. 'Community video' is a slippery term: The LCVA uses it to make a distinction between this video practice from other sorts of work (for example, 'artist's video', or independent video/film documentary making). Not all of the work in the archive was originated on video — there are a few relevant participatory-based works that were originated on 16mm film. The archive is still developing, also its website.
Who were the women shaping the community/alternative video movement in London?
Have a look at their portraits: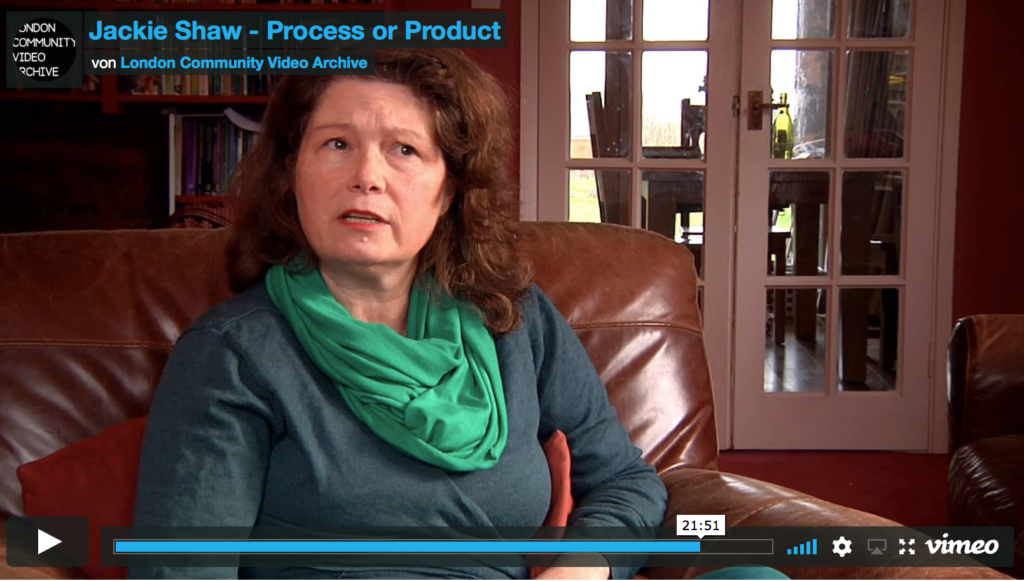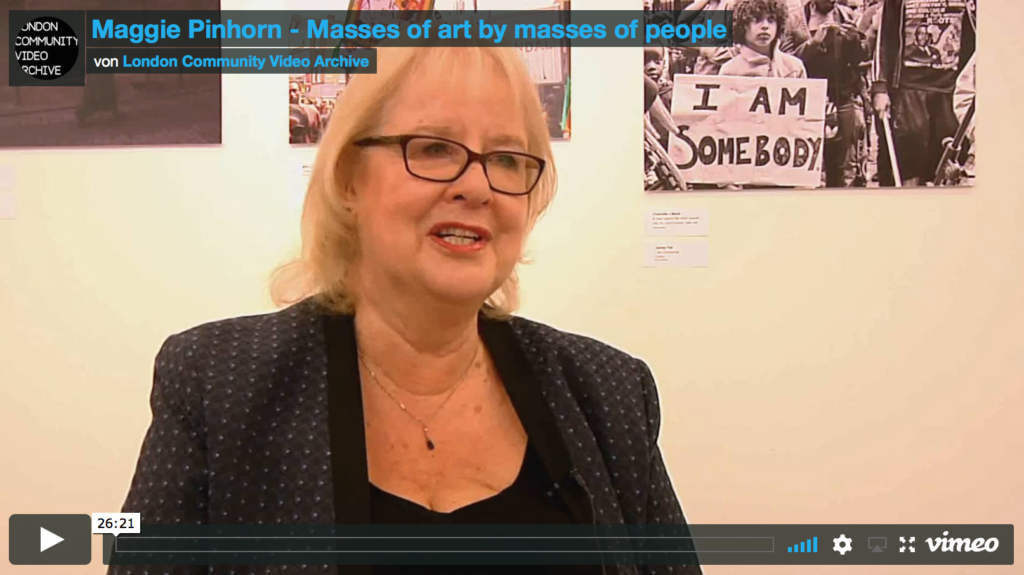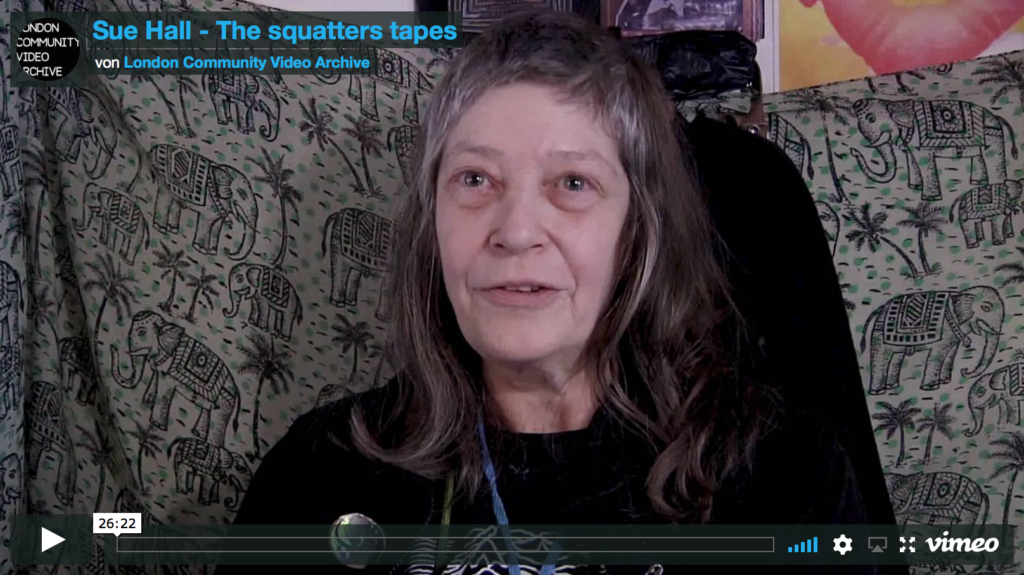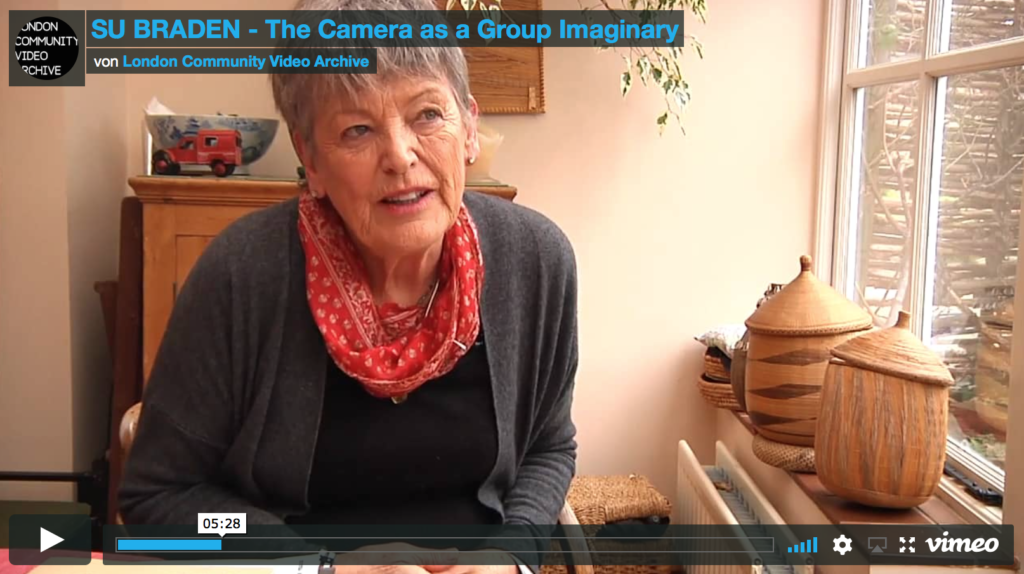 And here is a selection of videos from the London Community Video Archive:
All You Need's an Excuse (11 min)
Parents take matters into their own hands to claim a safe play space for their children in traffic-filled Beckford, North London. This campaigning film advocates the benefits of direct action, offset against the pitfalls of apathy – and makes use of a bold and unconventional filmmaking style. It was made by Liberation Films, which developed from a group of activists, including a doctor and several teachers, all campaigning against American involvement in Vietnam. They produced campaigning films in local communities and were particularly active in the 1970s. 1972 by Tony Wickert, Geoff and Marie Richman.
Tunde's Film (40 min)
Filmed in 1970s East London, this rare, gritty drama deals with the trials faced by a group of young black teenagers. The film follows director Tunde Ikoli and his pals Colin, Micky and Taploe as they struggle to find work on the streets of pre-developed Tower Hamlets. Penniless and constantly harassed by the police, the boys decide to cut their losses and rob a bank. A potent, incisive slice of social realism, with music by Joan Armatrading. 1973, by Maggie Pinhorn and Tunde Ikoli.
August 13: What happened? (41 min)
The film depicts the infamous events of 13 August 1977, when a National Front march through South East London led to clashes with anti-fascist groups, and later between demonstrators and the police. Originally distributed on VHS to anti-racist groups by Albany Video in Deptford in the 1970s and early '80s, the film has for long been considered lost or destroyed. It was recently discovered in the archive of production company Spectacle. Geoff Stow, John White, Mary Sheridan, Nick Fry, Pete Anderson.
HOW TO USE A PORTAPAK? (3 min)
An instructional video made for UNESCO. 1978 by John 'Hoppy' Hopkins and Sue Hall.
FRAMED YOUTH (46 min)
A 1982 documentary film, produced by the London Lesbian and Gay Youth Video Project, in which gay and lesbian teenagers interview straight people on the streets of London about their views on homosexuality. Made by, for and about young gay people, with rising stars of the time Jimi Somerville and Isaac Julien among a host of others, Framed Youth won the John Grierson Award for documentary.
Who killed Colin Roach? (11 min)
Isaac Julien's first film, which reflects upon the death of Colin Roach, a 23 year old who was shot at the entrance of a police station in East London, in 1982. Even though the police claimed Roach had committed suicide, evidence showed otherwise. Isaac Julien says that this work is essentially a response to the riots, an answer to certain fixed ways of looking at black cultures, but also at those ways we might feel about ourselves.
Mistaken Identity (26 min)
Made to coincide with International Youth Year, Mistaken Identity is 26 minutes of fun, as we see young women doing it for themselves. A fast-moving video in which seven young women's groups use an engaging combination of raps, skits, cartoons, home movies and songs – all written and performed by the young women's themselves – to explore and celebrate their views of being young and female in 1985. The result is a stylish mix of politics and entertainment: young women's magazines meet pop videos to create their own combination. Karen Alexander and Helen Petts.
People's Account (50 min)
Ceddo Film and Video Workshop was one of several black collectives set up in the 1980s with support from then-new broadcaster Channel 4 and the Greater London Council. Their work was characterised by a radical left-wing critique of British society in relation to black people and by an interest in African and Caribbean politics and history. The collective ran into trouble immediately with its first film for Channel 4, The People's Account (1985), a documentary about the Broadwater Farm riot in Tottenham, North London. The Independent Broadcasting Authority (IBA) objected to the description of the police as racist, lawless terrorists, and to the description of the riot as a legitimate act of self-defence. The IBA demanded editorial changes and when the filmmakers refused, the programme was pulled from the schedules, never to be shown on British television. Menelik Shabazz and Milton Bryan.
Tactical TV (parts 1 & 2) (33 min)
The first 2 parts of a 1993 Channel 4 TV programme in the Channels of Resistance Series. Tactical TV looks at international experiments in community-based and oppositional TV and video. Tony Dowmunt and Andy Porter.
April 14
REBEL VIDEO is still in the UK. You may ask yourself what happened in community/alternative video of the 70s/80s outside of London. There is one most valuable source: STREET VIDEO by Graham Wade. The book has been long out of print. But the other day I visited Graham and we decided to put STREET VIDEO online for free. Here is the link.
Graham has about 30 copies of the book left, also for free. You just have to cover the postage. Send me an email: [email protected]deo.ch
Wow, lot's to discover in STREET VIDEO: Video groups in Sheffield, Cardiff, Glasgow, Manchester and Belfast! 😊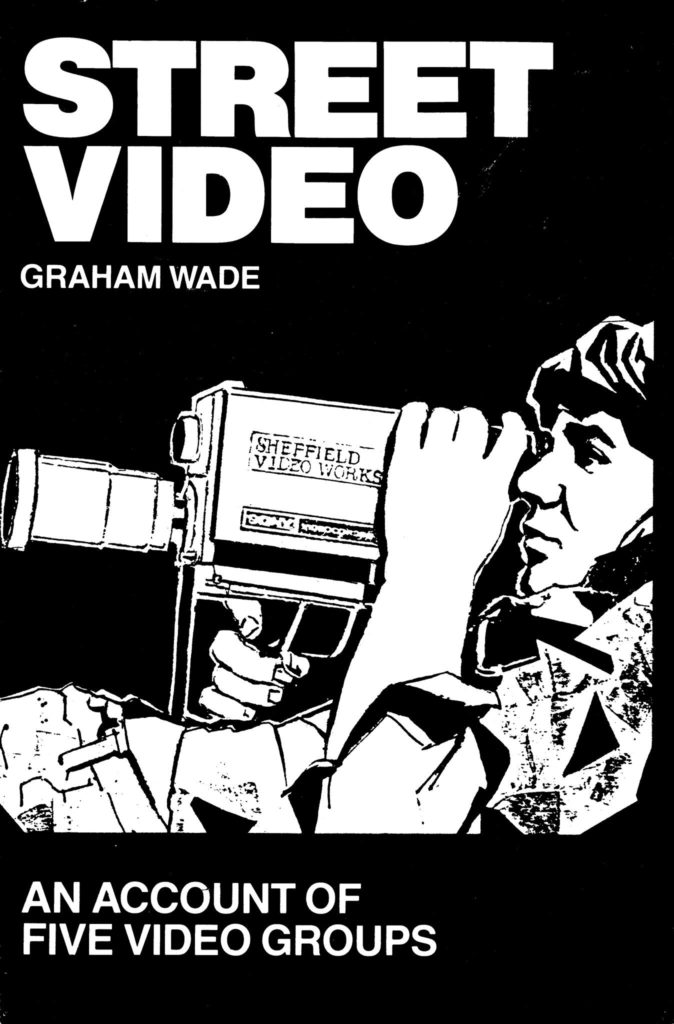 April 16
Hi everybody, here comes another message before I leave with REBEL VIDEO for Genoa. The other day I sent you STREET VIDEO, the book by Graham Wade on community video in the UK of the 70s. People love it, loaded it down and sent for free copies of the printed version.
Now here comes COMMUNITY MEDIA, which is out of print too, and many of you do not even know that it exists. Also for free download. If you want a printed version of it, just drop me a line: [email protected]video.ch

All the best, Heinz Nigg

Genoa, May 4
Dear friends of Rebel Video,
Quite a view celebrations and discussions about the 1968 movement/s are currently taking place around the globe. Did the hopes and aspirations of 50 years ago come true or do they contrast with the values of the world we live in today? Are there still lessons to be learned from the radical uprisings and defeats of 1968?
These questions were also at the centre of my last presentation of Rebel Video in Genoa more than one week ago. The audience in the Teatro Altrove saw the program of Rebel Video with Italian subtitles and took part in a debate about 1968 in Italy and abroad. The evening was moderated by Bruno Piotti from the Archivio dei movimenti Genova e Liguria. Below I send you an interview with Bruno about how he experienced the event.
And you can watch a 19 min video with Bruno Piotti talking about the Archivio dei movimenti and how its rich collection was put together with oral history interviews, documents, books, magazines, flyers, posters and photographs about the 68 movement in Genoa and Liguria. In the last part of the video interview Bruno talks about how he became involved in the 68 movement himself and why he co-founded «Archimov» as the 68 archive in Genova is affectionately called.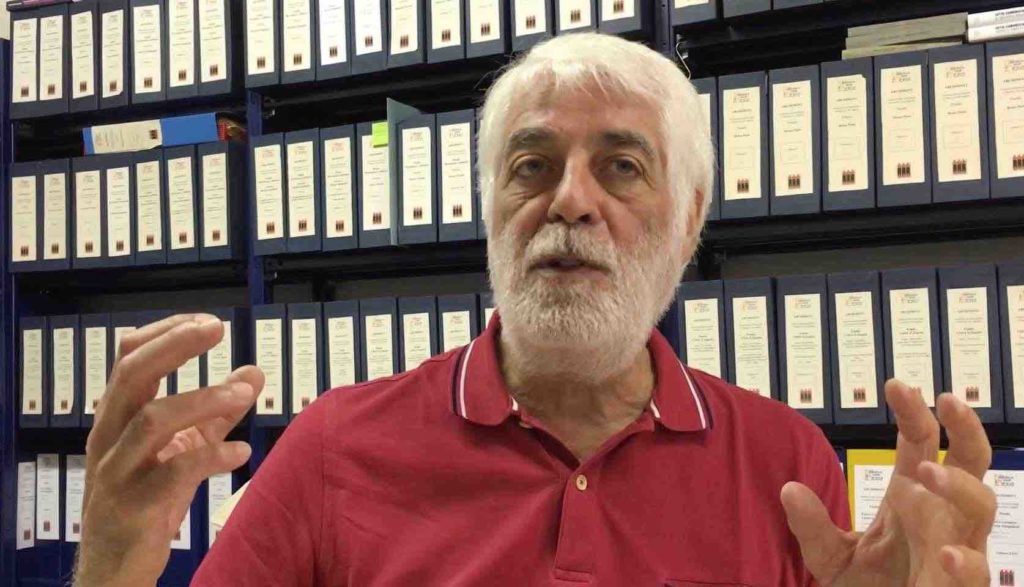 I thank Ilaria Sechi and her team from the Teatro e Cinema Altrove for their hospitality and Bruno and his friends from Archimov for this exciting cultural exchange about the 68 movement and its filmic expression. Grazie also to Antonella Martegani from Zurich who joined the discussion. After the screening of the videos from Zurich's youth riots in the 80s Antonella told the audience how important Zurich's youth movement was for people like her from the second generation of Italian immigrants. For the first time in her life she developed a sense of belonging in her new hometown (see link to German interview with her).
For useful information about Rebel Video and the Archivio dei movimenti Genova e Liguria please do check the link list below.
All the best, Heinz
Interview with Bruno Piotti about the event at the Teatro Altrove
Heinz Nigg: Why did you invite Rebel Video to Genoa?
Bruno Piotti: At the eve of the anniversary of 68 the «Archivio dei movimenti» wanted to expand the focus of the archive. We collect data related to the 68 movement in Genoa and the Liguria region. We wanted to enrich the anniversary with videos and short documentaries from other parts of the world to attract a young audience and middle-aged people. And to remind the older generation – the activists of 1968 and the 70s – of the international approach to everything we did, how we communicated and protested in those days.
Just remember the format of the plenary session! The general assembly was a form of communication that spread quickly from Berkeley to Tokyo – through all the continents. That was quite funny. In Senegal too, it came to a demo in March or April 1968, which was attacked by the police and the authorities. It also started with a general assembly of students at Dakar University.
With the program of Rebel Video we also wanted to show how it became possible from the 70s onward to immediately record protests with video. Video makers could express the opinions of the demonstrators very accurately, for example, in the case of the video we saw about the demo against the "Poll Tax" in the UK. Video was used as a tool to disseminate information very fast and have an impact on public opinion. This was important to counter the predominant media coverage with authentic information from those directly affected. Newspapers often misused information against the demonstrators.
HN: My Italian wasn't that good to follow the discussion in depth. How was it?
BP: The transnational comparision was interesting. For example, when it came to squatting. How the police responded to occupations in London was not unlike in Italian cities such as Milan, Genoa, Turin, etc. Italy had also experienced an explosion of squatting by poor people and industrial workers. So we can speak of a generalisation of the 68 movement across borders.
And how the state responded to street demonstrations in different countries was similar as well. Police forces and local authorities often turned peaceful manifestations into riots. That was not only the case in the video 'Battle of Trafalgar' (London, 1990), but also in the videos about the youth riots in Zurich of the early 80s.

HN: What did the young people in the audience get out of the event at the Teatro Altrove?

BP: They had another motivation than just to remember 68. They had another perspective and looked at the events from much further away.

HN: As far as I could understand there was an older activist in the audience who complained about young activists today lacking a broad vision of change. What exactly did they argue about?

BP: The young activist didn't agree with this critique at all and said that their generation also envisages a profound change of the world and that they would love to have a large project like 68. "But don't forget," he said, "your project had been politically defeated in the late seventies!" And of course he was right. Up to about 1977 a large social movement in Italy was very active and visible.
But then, for many different reasons, it came to an end. One of the reasons was that the mainstream political parties formed a kind of coalition to exclude us from the extra-parliamentary opposition from the political discussion, because we were not excepting parliamentary democracy as the most important form of political expression. 68 activists who were in favour of more direct democracy through direct action were met with hostility and were marginalised. The violent strategy of the Red Brigade also had a negative impact on public opinion. The political parties took advantage of this, arguing that all activists who did not accept parliamentary democracy would sooner or later become terrorists. And obviously this was not true at all.
HN: Coming back to the film program of Rebel Video. I also showed excerpts of videos about the youth riots In Zurich in the early 80s. Did you know about these riots in Switzerland before?
BP: Not really, and probably also the audience in the Teatro Altrove didn't know about them. The youth riots in Switzerland happened in 1980, 1981, and the youth movement in Zurich continued until 83, 84. In Italy we had in 1980 the Bologna massacre, a terrorist bombing of the Central Station at Bologna, which was carried out by a neo-fascist organisation. 85 people were killed. So that was really dramatic. This was the symbolic date marking the end of all large street demonstrations in Italy for many years to come.

HN: Isn't it ironic that the youth movement in Zurich had learned a lot about direct action from the «Indiani Metropolitani», the creative wing of the autonomous movement in Italy? So the youth movement in Zurich continued in a way the practice of spontaneous rebellion that was not possible anymore in the repressive climate in Italy after 1980.

BP: Heinz, I think this is another positive outcome of our collaboration: to exchange information about the key points you mentioned. We call this "un pratico obiettivo", an objective practice. If you do not like how a specific history is taught at the university you do an alternative seminar and "practise your objective".
And this process of self-learning also happened in your Autonomous Cultural Centre in Zurich, the AJZ. In the videos from Zurich we saw such cultural centres facilitating an alternative way of expressing culture: through theatre, joyful actions, etc. This took place in a limited space but was significant for the rest of the city. And what also comes to my mind in this context is how we can observe the different stages of similar social and cultural movements in other cities, countries, and other decades. As you said before: When the movement in Genoa came to an end it started to happen in places like Zurich.

HN: What do you conclude from our exchange?

BP: It is time to reopen the memory of the past from closed circles of friends, former activists, trade-unionists, etc. to a wider public of people interested in critical debate about the recent past. We have not finished yet to discover and learn from the 68 movements across the globe and from the biographies of the activists.
List of Links
Video-interview with Bruno Piotti about the background of the Archivio dei movimenti Genova e Liguria
Archivio dei movimenti Genova e Liguria with all book publications and DVDs.
Program of Rebel Video Tour 2018 with Italian subtitles:
Quando la piazza contava (original Italian):
The London Tapes
Città in movimento e rivolate urbane
Città in movimento e rivolte urbane (storia orale)
Interview with Antonella Martegani, 2001, in German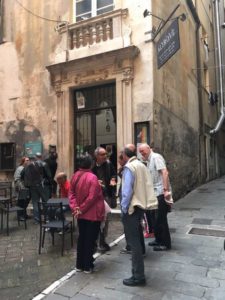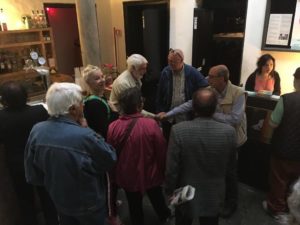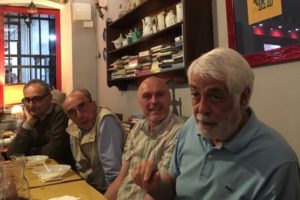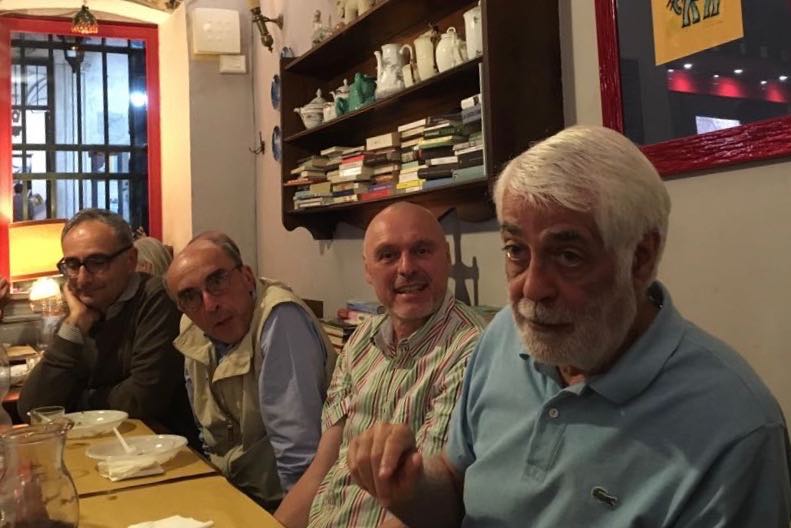 ————————————————————
Rebel Video Tour 2018: screenings
Program 1
The London Tapes. Community action, mobile media vans, squatting and investigative video in London of the 70s and 80s. Excerpts from videos from Inter-Action, Fantasy Factory, and Despite TV.
Program 2
Cities on the Move and Urban riots. Unrest in Zurich 1980–1984. Excerpts from videos from Community Media, the Videoladen and from oral history interviews with video activists: Excerpts / Oral history documentation
Background
In the 1970s and 1980s, young activists discovered video as a new medium and used moving images in their struggle for access to cultural expression for the many, not the few. They were researching and developing new forms of independent and participatory media work – an important step towards realizing the utopian promises of the digital age. The book publication and website REBEL VIDEO portray practitioners of community and alternative video in London, Basel, Bern, Lausanne, and Zurich. The book is complemented with essays on documentary film and video art and shines a light on the video movement in all its many facets. Most of the videos mentioned in the book can be viewed as excerpts on the website: www.rebelvideo.ch
Book Rebel Video: english / german
About Heinz Nigg
Heinz Nigg is a Swiss anthropologist, community artist, and video activist. In 1980 he documented the outbreak of the youth riots in Zurich. In 2017 he curated Rebel Video for the Swiss National Museum, an exhibition about the alternative video movements of the 1970s and 1980s in Switzerland and the UK. He co-founded the London Community Video Archive.
Contact
[email protected]